All through grammar school and high school -- and, well, hell,
now
-- I was known as a groupie. Not the
bad
kind of groupie (I hope no one thought that -- I wasn't!!) but just one of those girls who loved her singers/actors/musicians to distraction. Maybe, then as now, it was an escape -- a chance to live, vicariously, in a world I would never inhabit -- and wouldn't want to, if the truth be known. Anyway, it's all in fun --
was
and
is
. I still have my obsessions and, I imagine will continue to until I drop dead. It's a part of my personality -- just like some folks fanatically follow sports or would knock each other down for a sale at Macy's -- it's all a matter of which pursuits make you happy. Anyway, after my 70s flashback with Three Dog Night last week, I was reminded of a couple of my other loves from that long ago time.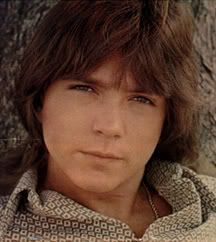 The very first concert I ever went to was the Osmond Brothers. I went with a group of friends -- Elaine, Pam, Lisa -- I think a couple more. We were about ten years old and had seats close to the front. After that, it was David Cassidy -- I remember recognizing the guy he lived with (it was just a roomie situation, as far as I know) and asking for his autograph. His name was Sam. But where that autograph -- or that man -- is today, I couldn't tell you. If I ever see David in person, I'll have to ask him. And, trust me, I would do it.
How about you? Who were your childhood idols?