I started watching
Robin Hood
(showing in the US on BBC America) somewhere about the middle of the first season. My hubby was already watching it (child at heart that he is) and, finally, after having my head turned more than once by that dastardly Guy of Gisborne (as portrayed by
Richard Armitage
), I gave up and joined in the fray. Anyway, that's really neither here nor there (I just like to mention Richard/Guy every once in awhile) other than to say this got me interested in the Robin Hood legend. Over the years, there have been countless books, TV shows and movies about the hero of Sherwood Forest. Of course, as I tend to do, I became obsessed with all things Hood and had to start collecting books which fictionalized Robin and his Merry Men. Which brings me to the question, is it correct to call it a
fictionalized accoun
t if the man is probably
already
fiction?
Anyway, in the bookstore one day (I forget which one or which day or which year), I saw a striking bookcover (along with a title) which made me pick it up right away. The book was
Scarlet
, written by
Stephen R. Lawhead
. Upon a quick scan, I realized that this was the second book in the
The King Raven Trilogy
, the first being, as you might expect,
Hood
. I had to wait until I read
Hood
before I could start
Scarlet
-- just the way I am -- and I also
had
to have a hardcover copy of
Hood
because my copy of
Scarlet
was hardcover. Go figure but books gots to match. Anyway, I read those two in quick succession, then waited patiently (because waiting impatiently does absolutely no good) for the next and last in the trilogy,
Tuck
.
Now, I'm not exactly sure why these novels appeal to me the way they do. Yes, they are about Robin Hood -- though a Robin Hood of a different era and area than most of us are used to reading. Yes,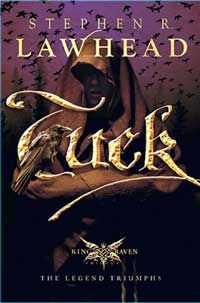 they covered some actual history. But I'm usually the most interested in historical fiction (based on real people) which contains just a wee bit of romance. And these had only the wee-est bit. But, there was something very interesting, very engaging about Mr. Lawhead's writing and I find myself wishing that he would expand the Robin Hood universe to include other members of Robin's fraternity (and one on Marian would be nice, too). Alas, it says
trilogy
so I guessing that's truly the end of the line.
Mr. Lawhead has written other novels -- some are also series -- and, over time, I'm sure I'll read them -- I've actually had one of his other novels for a long time and didn't realize it until after I read
The King Raven Trilogy
.
That's what happens when your TBR pile is bigger than you are.
Oh, and just for the hell of it, here's some Guy...