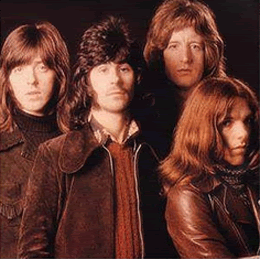 I had a wacky dream last night. Well, I suppose it was no wackier than usual but it made me look up someone, on the internet, I hadn't thought of in a long time.
I dreamed I was at a concert (various artists -- none whom I knew) and, after the show, some of the acts were signing autographs and selling merchandise/CDs. Okay, that sounds pretty normal -- but did I mention that when I was at the
concert
, I was a teenager and by the time I got to the
signing
, I was my present age? Anyway, some of the musicians had not performed in the concert and I was delighted to find one Joey Molland, who was, at one time, a member of a band I adored --
Badfinger
.
Anyway, this dang dream must have gone on for an hour -- I told Joey about how
Badfinger
had been one of my favorites (who, my age, can forget
Baby Blue
or
Day After Day
?) and how I'd seen them in concert when I was around twelve (what older performer really wants to hear
that
-- I suppose it's better than telling someone your
grandmother
loved them). Anyway, Joey wasn't selling anything -- I wanted to buy a CD 0r something but he had nothing. Finally, after rooting around in his booth, he came up with something, which he gave me. I don't know what it was but I was thrilled to get it. And, when I got up this morning, I immediately got online to see what Joey has been up to lately.
The saga of the
Badfinger
line-up I knew was not a happy one -- of the four members, two committed suicide and one died of natural causes a few years ago. When I woke this morning, after dreaming of Joey, I thought,
no, not you, too.
But, as far as I can tell, Joey is still alive and kicking.
Sometimes I long to tell these people what they meant to me. I'm not a musician or a singer -- so I can't claim that kind of influence -- but
Badfinger
, like
Three Dog Night,
Black Oak Arkansas
,
Alice Cooper
and
KISS
were my soundtrack of the 70's. But I'm sure plenty of folks have told them the same thing and I'd just be one more babbling voice not making much sense -- but I'd like to tell him about seeing the band in Macon, Georgia, and how I ran back inside, after everyone was gone, and saw them putting away their instruments. All I remember is yelling at Pete Ham -- who waved and smiled -- before I was escorted out by a policeman. I did not resist, by the way, and it was worth it.
I enjoyed "visiting" with Joey last night, even if it was only in my dreams. Now, it's time to put in a
Badfinger
CD and let the memories flow.