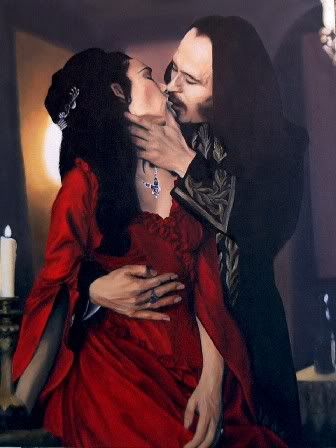 I've never been a romantic -- candlelight dinners and sweet nothings just don't do it for me and never did. Most of the things I find romantic probably wouldn't pass muster with most people -- for example, for me,
Dracula
(1992, with Gary Oldman as Drac) is one of the most romantic films of all time. It's hard for me to explain
why
-- beyond my fascination for vampires in general -- but the words Dracula utters to Mina, "
I have crossed oceans of time to find you
," pretty much says it all. Who wouldn't love a guy like that, fangs and all?!
There's still a little snow on the ground here but the temps are in the low 50s so I don't think it'll remain much longer. It's amazing how bright everything looks when reflected off of snow. I'm glad we got a little of it -- I doubt if there'll be any more for us this year -- but you never know. If there is, we'll deal with it like we always do -- everything will shut down and we'll all get a little loopy. At any rate, if there had been snow
today
and we had nothing to do but sit by the fire, I
probably
would've found that romantic.
Perhaps what is truly romantic is whatever is
different
from a day to day life. That could be, for some, getting flowers and candy but, for others, might be just having your significant other do a load of laundry (and put the clothes up) or empty the dishwasher (and put the dishes up). Nothing really says
I love you
more than doing something which you don't necessarily
want
to do but you do it anyway because you know it would make someone happy.
Sometimes I think we spend way too much time in a frenzy of gift-giving that we forget to really figure out what makes a person
feel
the most loved.
Maybe sometimes, we just need to
ask
.
And then we need to
listen
to the answer.
Personally, I'm going to try to do better on that account -- not just on Valentine's Day but every day.
Maybe, here and there, I'll get it just right.