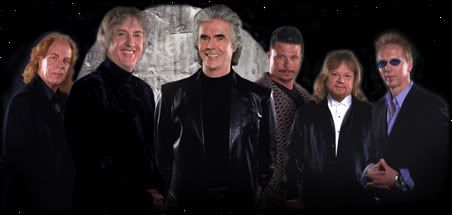 Okay, no she didn't -- I didn't even tell her I was going...seriously, though, I had a major 70s flashback last night. Nearly 40 years ago (jeez!!!), I saw the band Three Dog Night in concert (I must have been a wee infant!) Last night, all these years later, I got to see them again. They performed with the symphony here in my hometown.
Symphony?! Three Dog Night?!
Well, yes -- except the symphony really just sat there while Three Dog Night (four original members, two newbies) rocked out! I was totally amazed and transported. Other than some gray hair and weight gain (them
and
me!), they still sounded like the band I've always known and loved. I knew all the words -- I
sang
all the words! They performed all of my favorites --
Celebrate
,
Family of Man
,
Shambala
.
Here in Augusta, the
Pops at the Bell
series tends to be a slightly highbrow affair where folks tend to dress up a bit. And there were a lot of older people -- older than
me
-- there. I'm not sure they all realized what they'd gotten into! One couple, sitting near us, left after the first part of the show -- after the symphony did their solo bit -- I guess the rocking out part wasn't on their agenda. Last night was the first time, in a long, long time where I left a show -- any show -- with my ears ringing!
Oh, hallelujah!! I'm not dead yet!!
Anyway, after all of this time living here, we finally decided to get season tickets to this series -- sadly, this is the only rocking concert scheduled -- the other three in the series will be Eileen Ivers (Celtic music -- this will be the Christmas program -- which will be nice), a Motown something-or-other and, finally, Don McLean (of
American
Pie fame). I can tell you right now that
none
of them are going to be as enjoyable as last night.
But we can't have everything all the time, can we? Still, I've decided that what I really
need
to recharge my batteries is to go back to the 70s every now and again. Now, if only half of Badfinger weren't dead or Black Oak Arkansas would come around, I'd be all set.