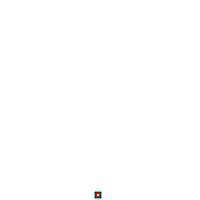 Well, here we are, a new year! It's hard to believe it's 2009 when it seems like only yesterday we were worrying about whether computers were going to crash when it turned 2000.
This will be a big year for me -- well, in the birthday department, anyway. This is the year I'll turn 50 (8 months to go!) -- talk about hard to believe! In my head, I still feel, oh, I don't know, 25 or 30 -- but my body begs to differ. At any rate, when I turned 40, it actually felt
freeing
. We'll see what 50 does to me. Condolences and/or congratulations will be accepted here.
As anyone who has kept up with this blog knows, the end of 2008 was not a good one and we are still reeling from our loss. But, this too shall pass -- and, eventually, we'll be able to look back and smile about the dog we had for much too short a time. And, of course, the new puppy is already making us laugh like fools. I've always maintained that God knows
what
we need
when
we need it -- although
we
have to
listen
and
accep
t His bounty -- and, even though, I wondered if getting Liesl so soon was the right thing, I think she was sent to us by divine intervention. As I write this, I don't know what part of the house she is wrecking havoc in -- considering that she goes non-stop all day, it's about time for her to crash.
Last night, we shot off a few fireworks. We have to travel across the Savannah River to Wacky Wayne's to buy them -- at least the kind we
want
. Certain fireworks -- the
good
ones -- are illegal in Georgia. Anyway, we didn't buy as many as usual but we sort of expected that some of the neighbors would have bought a few, too -- we usually have a small gathering and watch the "show" from the bottom of our driveway. Anyway, I don't know if it's because all the kids are growing up around here (there are a few who are
much
younger) and they are no longer interested in this tame display (only one adult neighbor actually joined us) but my youngest two (16 & 21) had a blast (literally) so that's what counts. But, maybe, we've reached the end of the road for the neighborhood New Year and 4th of July fireworks fun. Of course, both of my youngest two always did like to play with fire so, as long as they are into it, I guess we'll continue -- even if it's just us. It sort of feels like one of those
passing of the torch
moments, though.
Well, one of the things a new year brings is hope -- and, Lord, don't we need it. So many changes for our country, for us personally and probably for you as well. I pray this new year will come with many blessings for us all.