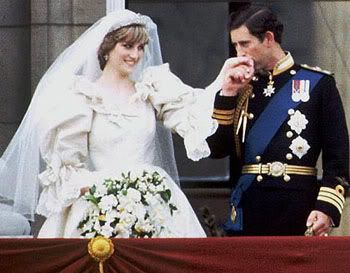 I remember the fairytale -- the beautiful English rose marrying the crown prince of England.
Well, it seemed like a fairytale at the time but we all know it really wasn't though I doubt half of what we heard or read was actually the way it was. Anyway you look at it, though, Lady Diana Spencer and Prince Charles were probably not a good match from the get-go.
The royal wedding made me very nervous because, in less than two weeks, I was going to be walking down the aisle myself. My day would be just as special -- only to a smaller group of people. I can hardly believe both of those weddings were 28 years ago.
I loved Princess Diana in spite of -- or maybe because of -- what was written about her. We started on our married life together. She had her first child right away while I waited but I did share part of her second pregnancy. And she died on my birthday. That Christmas (1997), I received a very special gift -- a tiny Boston Terrier I named
Spencer
in her honor. Today, Spencer is old and decrepit and when he goes, it will almost be like he'll carry a little part of her with him.
I hope Diana and Charles found some contentment, somewhere, during their tumultuous marriage but I'm not sure they ever even got a glimpse of the happily-ever-after we all wanted for them.
I still miss her.